You've passed by our building many times. We've been on the corner of Broadway and Crystal for over 130 years. We started the Food Pantry 20 years ago. We've hosted Derry's Soup Kitchen since the 80's.
But have you ever been in to see us? We're inviting you to do that.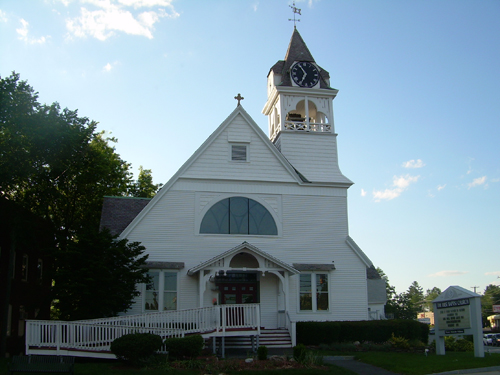 Do you think there is a God? Do you believe He is worthy of worship for creating the world and sending His son Jesus to give us the hope of heaven?
That's what we do here on Sundays: praise Him in song, learn about Him through teaching and sermons, and talk together about how He wants us to live our lives and serve our community.
Maybe you've never thought about whether we owe God anything. We welcome people who want to inquire about who He is and what He wants from us.
FBC is a close-knit, downtown church located in the center of Derry. We welcome new members with open arms. We are a friendly, fun-filled group of people from diverse backgrounds. Several of us grew up in Derry, but we have members from Iowa, New York, Virginia, Massachusetts, Illinois, and New Jersey.
We are part of the

American Baptist

organization, but have members from other Christian groups, including many Catholics.

We have a youth pastor who loves kids and puts together fun events for them each week.
We love music and have both an adult and children's choir.
Members of FBC tend to be very active in the church. Monthly greeters, worship leaders and ushers are designated from the congregation on a rotational basis.
We host several trips, suppers, and programs each year.
Currently we offer Sunday School for all ages, infants through adults.