Pastor Malcolm Widness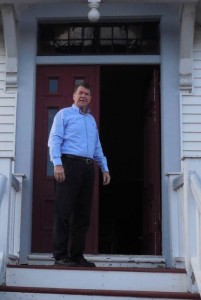 Malcolm was born in Brooklyn, NY and grew up in a small town on Long Island called Elwood. His father was Andrew Widness, a banker and WWII B-24 bomber pilot, and his mother Mary Macdonald Widness (who moved to Brooklyn from Scotland in 1928.) He graduated from John H. Glenn High School (so named because the school was built around the time John Glenn orbited the earth, 1961). He was part of a great church, Central Presbyterian, in Huntington, NY that had wonderful people and pastors, and a great youth group, which ran summer camps and winter retreats for 100+ kids. It was there he first thought of becoming a Pastor.
Education: Graduated from The College of Wooster, Wooster, OH in 1975, and from Gordon-Conwell Theological Seminary, S. Hamilton, MA in 1980.
Work Experience
I really had very little professional ministry experience before coming to FBC Derry, and I will always be grateful to the folks there for taking a chance in hiring me. My most relevant pastoral experience was as a volunteer leader at the First Baptist Church of Manchester, which was my first time in an American Baptist Church. There, under the direction of Pastor John Cerrato (the "Silver Sicilian"), I lead the Deacon Board and taught an Adult Sunday School class for 6 years as well as assisted in leading worship and organizing socials.
For 4 years in the early 1980s I was the Youth Pastor at the Londonderry Presbyterian. I ran the Youth Group there and was a worship leader. I moved away from being a Pastor after that experience, and for  several years went down the wrong path, instead the path of righteousness. "A man reaps what he sows" – those years ended in a divorce sadly.
For almost 30 years I worked as a Recruiter ("Headhunter") in the Software/IT business, for recruiting and search firms, for startups, and for IBM.
Favorite verse – Philippians 3:8-11 "I consider everything a loss compared to the surpassing greatness of knowing Christ Jesus my Lord…I want to know Christ and the power of His resurrection and the fellowship of sharing in His sufferings…Not that I have already obtained all this or have already been made perfect, but I press on to take hold of that for which Jesus took hold of me…One thing I do: forgetting what is behind and straining toward what is ahead I press on."
This verse has meant a lot to me since I was a teen. I have always had a problem being good! I was very good at faking being good, but not good about being good if you know what I mean. But I understood the essence of the Christian faith at an early age thank God – which is that no one can save themselves, but everyone can only be saved through God's grace. So when I failed – and there have been countless times I've fallen over the years: lying, cheating (even in theology school!), partying, drinking, sexual sin, not being a good husband – I have always gotten back up and thanked God for His grace, and thanked Jesus for loving me enough to die in my place – and pressed on.
Dreams/Hopes: I want to see our church continue to the witness to God's greatness and goodness in the center of Derry that it has been for the past 130 years, and see more people in the area come to experience the joy of knowing God and having the beautiful, peaceful presence of the Spirit of Jesus in their lives.
Family – Daughter, Tallie Service and her husband Ed Service. Son, Kyle Widness. Three grandchildren, Emma, Jack and Oliver. Sister Susan Chalko, and brother Eric Widness.
Likes – Pizza, Seafood, Ice Cream, Coffee
Dislikes – Traffic, Insomnia, Acid Indigestion
Favorite place: The most beautiful place I have ever been is the Grand Canyon. I traveled through Europe for 3 months in 1976 as well. The White Mountains of NH are awesome too.